Fall is the perfect time to enjoy the natural beauty of the Canadian maritime provinces, and Halifax is a star attraction, popular on many east coast cruising itineraries. Established in 1749, the historic city is full of east coast charm, with plenty of activities that take advantage of the natural surroundings and seaside location.
With mild temperatures and warm afternoon sun, it is an ideal season to explore the outdoors and the magnificent Atlantic views. The quaint, historic city center with classic red brick buildings takes guests back to the area's 17th-century colonial roots.
Whether it be for scenic tours, outdoor activities, food, or relaxation, there is something for everyone to enjoy. And, with the busy summer tourist season ending, the atmosphere is perfect.  


Here are some of the top reasons to cruise to this east coast destination in autumn.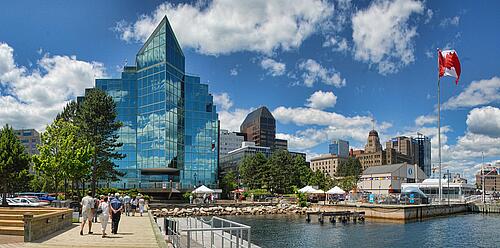 Halifax is located in Eastern Canada, on the Atlantic Ocean. It is situated in the aptly named Halifax Harbour, one of the largest, deepest harbour's in the world, perfect for a cruise ship's port of call.  
Fall makes for great temperatures in this region. September can see cooler mornings but generally warms up to temperatures in the 70s as the sun warms the land, perfect weather for sightseeing. The Atlantic Ocean is still relatively mild in the 60s, which makes it great for boating activities.
In October, as the leaves start to turn into their most vibrant colors, visitors can expect temperatures in the low 50 and 60s and slightly more rain than in September. Make sure to pack a jacket, as the mornings can be cool.
The surrounding ocean and rolling hills of Halifax can create dynamic weather patterns, so it is always a good idea to have layers and an umbrella for a quick shower. Fog is common in the coastal city but most often burns off, so not to worry.
Halifax has become a prime tourist destination, with millions of regional, national and international travelers visiting each year. The summer months, with the warmest weather and lots of festivals, see the most visitors.
In the fall, students start back to school after labour day, seeing a significant decrease in crowds. This makes for less traffic, leisurely strolls and easier to get into sought after restaurants along Halifax's seaside boardwalk.
Also, the latter part of the fall seas better pricing. On select Royal Caribbean cruises, prices drop as much as 40% between September and October. Money that can be spent on fun excursions and lobster feasts.
One of the foremost reasons to visit the east coast is the fall foliage. Trees change from their summer greens to the most spectacular colors, brilliant reds, oranges, to soft yellows. So beloved are these leaves that a red maple leaf is the centerpiece of the Canadian flag.
There are lots of ways to take part in this scenic transformation, which is at its height from mid-September to October. For a more relaxed pace, stroll the downtown areas of Halifax and its many parks and tree lined streets. Don't miss the Halifax Public Gardens. Established in the Victorian age, this free park is a stunning showcase of flora and fauna. The crimson colored bandstand is a great spot to take in the views or catch a concert.
The area also has a number of parks, including Point Pleasant Park which features almost 200 acres of serene, forested landscape in the southern end of the Halifax Peninsula.
The east coast provides a wide array of activities and sights to see. Many great beaches, boating, kayaking, and trails; the possibilities are endless. For the more adventurous, there is whale watching, or perhaps a "Harbour Hopper" a bus that turns into a boat for a tour of both the land and sea.
Another must see is Peggy's Cove, a fishing village not far from Halifax. Home to its famous lighthouse and rocky shores, it is truly a picture perfect postcard. A recent upgrade to the area provides a fully accessible viewing deck on the Atlantic Ocean, which is great news for tourists.
For those wanting an authentic mariner experience, Royal Caribbean offers a local excursion where guests get to be crew for the day on a lobster boat. As they sail out of the harbour, cruisers get to learn about the importance of lighthouses, followed by a hands-on experience retrieving a lobster from its trap.   
The Haligonian food scene has been shaped by its proximity to the sea and its French, English, and Scottish settlers. In particular, this Atlantic region of Canada is renowned for its bountiful fresh seafood. Throughout the fall, guests can enjoy lobster served with butter in the traditional Nova Scotia style. Don't worry; most places provide plastic bibs for the somewhat messy process of consuming this delicacy.
September is also a great time to take part in Canada's largest oyster festival. Try a variety of oysters in differing preparations, and see how to shuck oysters from the pros. Fresh mussels, Digby scallops, and even dried seaweed are all on the menu
The region is known for its wild blueberries and freshly harvested apples, which are used in a variety of sweet and savory dishes. Casual eats include a donair, which consists of spicy meat in a pita with a genuinely unique creamy garlic sauce. A product of the Scottish influence (Nova Scotia means New Scotland in Latin, after all) are oatcakes; a perfect afternoon treat with coffee. And, before you leave, make sure to pick up some authentic, locally made maple syrup for those who weren't lucky enough to cruise with you.
Some of the best places to try out activities and try some local delights is the waterfront. The impressive 2.5 mile waterfront boardwalk weaves amongst some of its glories from the past, as well as great food and activity options. With fewer crowds in the fall, it is particularly a nice place to explore.
Rent a bike and peddle the whole of the path to get the full experience. There are plenty of restaurants, bars, and shops of all types. Don't miss Amos Pewter along the waterfront, which makes unique handicrafts and jewelry out of the metal alloy. To cap it all off, try your hand at cards or the slots at the local casino, also located on the boardwalk.
After a walk, visit the Alexander Keith Brewery, which has been making beer since 1820. Listen to some Celtic music at the 200 year old Historic Properties while chatting with locals. The relaxed atmosphere of fall makes it so enjoyable.
If the weather turns to rain, or simply you are interested in the history of Halifax, there are plenty of attractions that are easily accessible in the downtown area.
Located on the Halifax waterfront, the Maritime Museum of the Atlantic takes you back in time as you can learn about the region's maritime history, including its role in the Titanic recovery. Not far away is Fairview Lawn Cemetery, the final resting place of over 100 victims of the Titanic.
There are also several great museums and galleries located in the downtown area, such as the Museum of Natural History, The Canadian Museum of Immigration, and the Art Gallery of Nova Scotia, which features local renowned artist Maud Lewis. Topping it all off is Citadel Hill, is mid-18th century fort with an impressive star-shaped footprint.
For cruisers wanting to explore the picturesque East coast with a stop in Halifax,  Royal Caribbean offers a variety of fall itineraries and ships to choose from:  
View the discussion thread.
Have our travel agency partner get you a free quote for a Royal Caribbean cruise
Like what you see? With your support, we can create more exciting content and share with everyone!
Become an Insider
Started in 2010, Royal Caribbean Blog offers daily coverage of news and information related to the Royal Caribbean cruise line along with other relevant topics of cruising, such as entertainment, news, photo updates and more.
Our goal has been to provide our readers with expansive coverage of all aspects of the Royal Caribbean experience.
Whether you cruise multiple times per year or you're new to cruising, the goal of Royal Caribbean Blog is for it to be a useful resource for keeping up to date with what's new and exciting with Royal Caribbean.
Privacy Policy
© 2010–2022 Regal Sea Media LLC. All rights reserved.
The material on this site may not be reproduced, distributed, transmitted, cached, or otherwise used, except with the prior written permission of Royal Caribbean Blog.